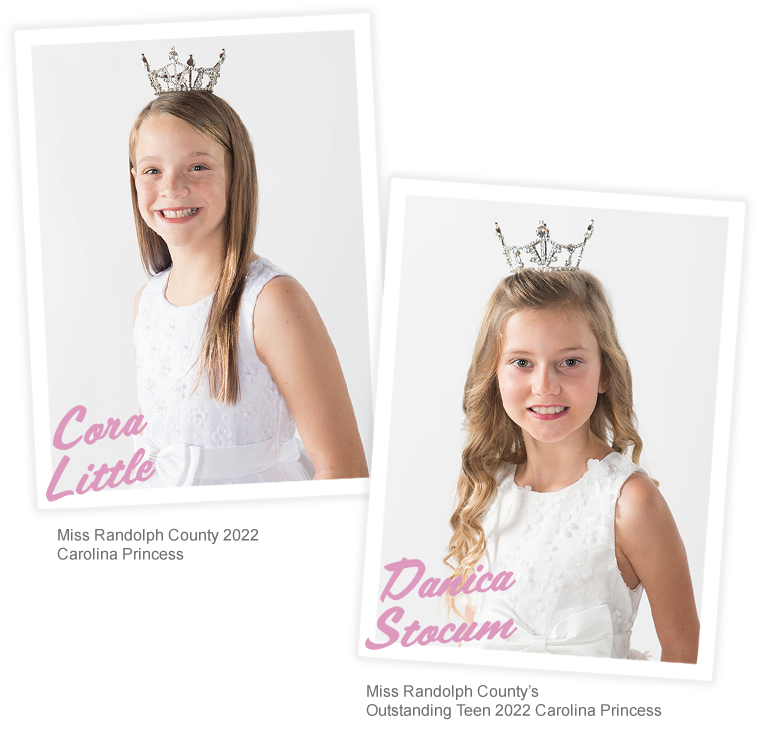 Miss Randolph County's Carolina Princess Program is modeled after Miss North Carolina's Carolina Princess Program. This is a mentoring program, an avenue for
young girls to gain onstage experience, and an opportunity to become familiar with the Miss America Organization.


Each Miss and Outstanding Teen contestant should
either choose or will be paired with at least one Princess,
but can have up to three! The Princess or princesses
paired with the newly crowned title holders will have
first preference to become each queen's official
Carolina Princess, and share the experience with them
at the Miss North Carolina Pageant in June.


How to Become a Carolina Princess
Carolina Princesses for the Randolph County Pageant are not pre-determined. Each contestant in both the Miss Randolph County and Outstanding Teen will be asked to have a Carolina Princess to participate in the pageant
with them that night. Carolina Princess' will not be in actual competition, but they will be featured on stage during the annual Miss Randolph County Pageant in our Princess Production Number (a fun, easy dance routine they will perform.) ~ for this routine we will let you know what the girls are to wear. During this routine, each Princess will be introduced on stage. The second appearance on stage will be with their Outstanding Teen or Miss Contestant for the finale ~ we ask the girls wear a white Sunday Best Dress (length should be below the knees), or long gown.
If the contestant you are with should win, then you will be crowned along with the winner as Randolph County's Carolina Princess. They will have the opportunity to travel and be alongside Miss Randolph County or Randolph County's Outstanding Teen for a whole year including going and being a part of the Miss North Carolina Pageant.


This is a great way for young girls to gain confidence while being mentored and making goals for themselves.
Thank you for your interest in the Miss Randolph County Scholarship Pageants' Carolina Princess Program!